On The Record – Isaac Graham
on
June 23rd, 2013
This Friday will see the release of Isaac Graham's new album 'Glorious Momentum'. A tour to launch it with his backing band The Great Unknown was recently announced for July / August, hopefully coming to a town near you. This week we caught up with Isaac to answer our On The Record questions. Expand this post to check out his answers as well as those tour dates and a few tracks streaming from the album. You can pre-order your copy now [Here]
Tell us about the release title.
The new album is called "Glorious Momentum" which is taken from the lyrics of my song "Nomads". I sometimes like to imagine that as humans we have this enormous weight or force behind us that is slowly pushing us through life. I still believe we have control over our destinies but I'm very interested in the way people and situations collide throughout our lives and the consequences of those meetings. I sometimes get overwhelmed at the potential of all these interactions. That weight or that force is the best way I can describe glorious momentum.
Tell us about the artwork.
The artwork was done by design legend Annie Walter who has worked with lots of amazing local and international bands. In fact if you've ever spent more than 5 minutes on bombshellzine you're guaranteed to have seen some of her work. I went to Annie with a very basic design concept and she helped make it a reality. I built the love heart Newton's Cradle on the front cover and she got local photographer Nathan Wasserman to snap it. I think the whole thing took about three months of back and forth to finalise. I like the cradle imagery because it captures the "momentum" theme well.
What format/s will it be released on and how will it be packaged?
At this stage the album is only being released on CD and Digital Download with a view toward a vinyl release if things go well. The CD comes in a sweet recycled cardboard wallet with an 8 page lyrics book.
Who will it be released through, and when?
We're releasing it independently and it's out on Friday 28th June. Physical copies can be purchased from www.isaacgraham.bigcartel.com and digital copies will be available through iTunes and all the regular digital retailers.
——————-

——————-
Tell us about the studio and why you chose to record there?
Everything except the drums was recorded by me in my little bedroom studio. All my gear is quite portable so I've recorded it in a number of locations over the past two years. The drums were recorded by my drummer Hayden Moore who had just started a business as an online session drummer. Over the last eighteen months he's been building and tweaking his little studio in Ulladulla to record drum tracks for bands and artists without drummers. Recording drums for "Glorious Momentum" was his first official project and allowed him to continually experiment with drums sounds and recording techniques. I got drums and he got practice recording. It was quite mutually beneficial.
Tell us about the producer / engineer and why you chose to record with them?
After everything was tracked I mixed the album over a period of about a month. I learnt a lot about the mixing process and really enjoyed it but I'm not sure if I would do it that way again. I think it's quite easy to get too close to the project and become too judgmental. We did however have the album mastered at The Blasting Room Studios in Colorado by Jason Livermore which added a real shine to finished product. Jason has mastered some of my favourite albums so it was great to have him involved.
Did you go into the writing process with a clear direction in mind?
The writing process was really slow. I'm not a particularly prolific writer so often songs get written and recorded several times before I'm happy with them. My major goal was to create an album of solid songs that had a sense of cohesion and that people wanted to listen to from start to finish. My definition of a good album is one that you listen to for a few weeks and say "There's not a bad song on it." I really hope people say that about this album. I also really like the fact that there is a story behind every song, including how every song was written. Although they are now a part of this "collection" of songs for me they all have their own context and meaning from the past four years of my life.
Were you listening to anything in particular during the writing / recording process that influenced the songs at all?
Because the album was written and recorded over such a long period of time there were lots of influences along the way. So to answer this question I've taken a selection of my most listened to artists on iTunes from the past three years. It seems I was listening to lots of: Against Me!, Alkaline Trio, Andrew Jackson Jihad, Bedouin Soundclash, Billy Bragg, Bruce Springsteen, Chuck Ragan, Creedence Clearwater Revival, Delta Spirit, Fake Problems, Foxy Shazam, Frank Turner, Gaslight Anthem, Gogol Bordello, Jamie T, Kevin Devine, The Lawrence Arms, Modest Mouse, Old Crow Medicine Show, Old Man Markley, RX Bandits and The National. Actually, looking at that list I think the album sounds like a good mix of all those bands.
——————-

——————-
Were there any albums you were referencing to aim for a certain type of sound production wise?
Here's what I put in the reference notes for mastering… "Hey Jason, was hoping the finished product to sound a little bit Frank Turner (Love, Ire and Song) with a dash of early Gaslight Anthem (Sink or Swim) but with a bit of country flavour – think Old Crow Medicine Show (O.C.M.S.) or The Avett Brothers (I and Love and You). If you can get some Andrew Jackson Jihad (People That Can Eat People Are the Luckiest People in the World) rawness in there you'll be winning. Have fun!"
How long did you spend in the studio recording?
All up the album took about two years to record. I wanted this album to show obvious improvement on the production quality of "Empty Vessels". Quite frankly I had zero idea what I was doing with the first record and started recording this one in the same fashion. I guess those recordings kind of ended up as demos for "Glorious Momentum". Once Hayden and I were more confident with our tracking and mixing techniques we set about recording the "real thing". Sometimes we would overdub the demos, other times we started from scratch. It was a frustrating process at times but it got to a point where you had to say "I'm happy enough to release this". We spent probably a year longer on it than we had anticipated but I think that extra year made everything a bit more sonically cohesive.
Tell us a little about the recording process the band used?
The process we used is almost completely backwards to the traditional multi-tracking process. I'd usually write a basic MIDI guide track which helped lock in the structure. Then I'd record the acoustic guitar and vocals, playing along to the guide track. Then I'd remove the guide track and send it to Hayden to record the drum parts. Then he'd send the drum parts to me and I'd record the bass parts and any extra instruments that I could play (banjo, harmonica, electric guitar etc…). The piano parts and harmony/gang vocals usually come last. At this point I might redo the vocals if I feel they don't work with the overall dynamics of the track. It's a bit of a roundabout way of doing things but it works in the end!
Was this any different to previous processes you have used?
The process felt a little more streamlined than last time. The last album I recorded on a very basic digital Tascam 8-track. After tracking, I would I painstakingly transfer every file to the computer for editing and mixing. This time round I recorded directly to the computer which was so much faster and easier.
——————-

——————-
Any particular equipment outside your usual live gear used in the process?
We don't play with an electric guitarist when we play live but there is quite a bit of electric guitar on the new album. It might be something we look at having down the track but I think the current live line-up (acoustic guitar, keyboard, bass and drums) works well. There is also a fair bit of banjo on the album which was fun to learn and record. It's such a strangely stirring instrument.
Any memorable studio moments?
When we were recording the female vocal part at the end of Lori Meyers for our version of the song we had our keyboard player Sarah-Marie drink a few shots of whiskey to try and give her voice a bit more gravel. We'd been through a few takes and it sounded a little too sweet when compared to original. The whiskey seemed to work on the vocals but also affected her ability to remember the lyrics.
Any additional tracks recorded that didn't make the cut but may see the light of day sometime?
I think there were two tracks that didn't make the album. They weren't great songs so I don't think they'll ever be released. I was however listening to some of the album demos the other day. It's always interesting seeing how songs start out. I might put them online down the track if people want to hear them.
What track/s are you most looking forward to playing live?
The album opener "Focus Shoes" is a bit of a belter so I'm looking forward to that playing that one. There's another song on their called "Young Backs" which we've been closing our set with for a little while now. It's a real sing along so hopefully now that people have the recording it'll be extra fun to play live. There's also a couple of songs that we've haven't arranged for the band yet. I'm looking forward to see how they shape up.
How would you compare the final product to previous releases?
I think the two most obvious improvements are in song writing and production. The last album felt like a solo artist with some ancillary instruments. This album feels more like a "band" album. I think the drums go a long way in creating that feeling. Also a lot more time and thought went into the artwork and replication process which I think was a winning decision.
————————————-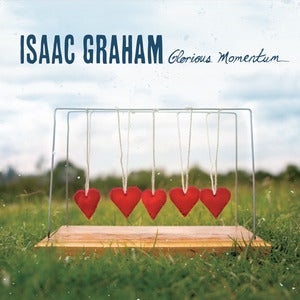 ISAAC GRAHAM – 'Glorious Momentum'
Available Friday 28th June.
Order your copy now [Here].
————————————-
ISAAC GRAHAM AND THE GREAT UNKNOWN
JULY
19th – Yours And Owls, Wollongong [AA] w/ Jack Reilly + Obscura Hail
26th – The Bunker, Coogee [18+] w/ The Devil's Brass Band, I Am The Riot + Matt Dundas
27th – The Lass O'Gowrie, Newcastle [18+] w/ Andrew Richmond, Adeline Pines (Acoustic)
AUGUST
1st – Crowbar, Brisbane [18+] w/ Jack Flash, The Dead Ringers, Jud Campbell
2nd – The Purple Carrot, Bellingen [18+]
3rd – The Star Hotel, Macksville [18+]
9th – Crown And Anchor, Adelaide [18+] w/ The Hard Aches, Rin & The Reckless + Dilettanes
10th – The Public Bar, Melbourne [18+] w/ The Shadow League, I Am The Riot, Nathan Seeckts
14th – Lizotte's, Central Coast [18+] w/ Thom Flemming
15th – Phoenix Bar, Canberra [18+] w/ Revellers (Acoustic) + Pete Akhurst
16th – Black Wire Records, Annandale [AA] w/ The Shadow League, Lincoln le Fevre, Pinch Hitter, Jack Reilly
17th – The Commercial Hotel, Milton [18+] w/ Garden Of Eden
—> Tickets available at the door.
—> For more information, visit [Here].
Related Posts: